At Cordera, we are committed to creating collaborative relationships that promote local economies. Our carefully selected suppliers share our values of quality and know-how. Something that reaffirms us in our path is that we still include the same workshops that started the Corderea project amongst our suppliers.
Founded in 1972

Fernando, Gloria, Nacho and Suso.
These are the names of the four brothers, and the third generation of this small family business with which we developed our first line of knitwear. Their workshop, only 12 km from our studio, has allowed us to create a fluid and familiar relationship with them, as well as almost daily visits during sample periods.

We can proudly say that their experience and expertise is reflected in every Cordera design.
We work with different family workshops in Galicia. Some of them have been part of this project since its origin, such as the workshop that Mari Carmen opened in 1992 and that is an integral part of our history.

We know and value that part of Cordera's recognition lies in its expertise, its demanding standards and outstanding attention to the smallest details. As well as fluidity when it comes to exchanging knowledge, experiences and, above all, being able to develop our requirements without having to overproduce.

Our commitment to ethical, fair and quality work involves supporting these family businesses that are located 80 km from our studio.
HANDBAGS AND ACCESSORIES WORKSHOP
Founded in 2012

In 2022 we expanded our range of Cordera accessories by launching our first line of handbags. 

For this ambitious and exciting project, we collaborated with a family business located 95 km from our studio. A workshop with a long trajectory in the sector, and who have been fully involved in it with the same passion as us.

Their experience and quality are clearly reflected in every finish. This is essential to keep up in a market where Spain is one of the leading manufacturers of high quality handbags. 

At Cordera we use domestically produced vegetable-tanned cowhides.
Founded in 1983

Our commitment to an efficient circular economy that minimizes our carbon footprint extends to all levels. That is why we chose a logistics center less than 15 km from our studio.

All the products included in our packaging are recycled, as well as our packing bags, boxes, tapes or any paper communication materials.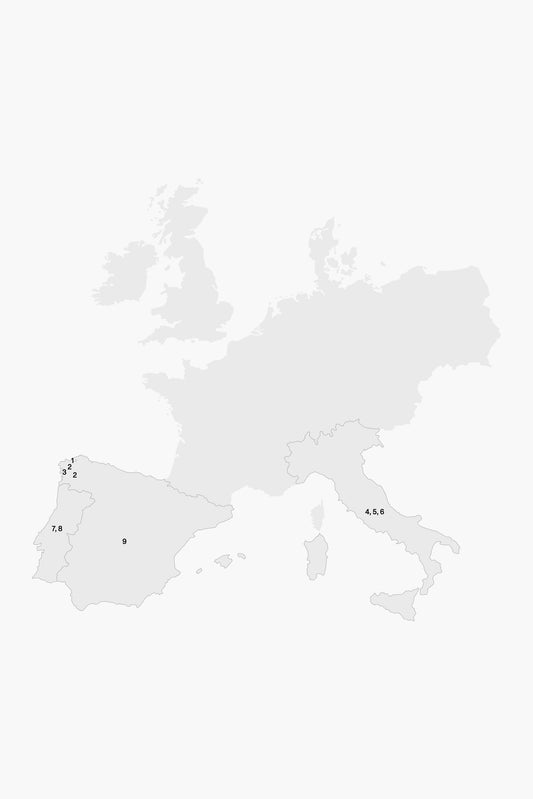 Manufacturing

1 Knitting Workshop - A Coruña, Galicia
2 Weaving Workshop - Ourense and Santiago, Galicia
3 Handbags and accessories Workshop - Padrón, Galicia

Fabrics

4 Outerwear - Italy
5 Yarns - Italy
6 Woven - Italy
7 Shirting - Portugal & Spain
8 Tailoring - Portugal
9 Denim - Spain